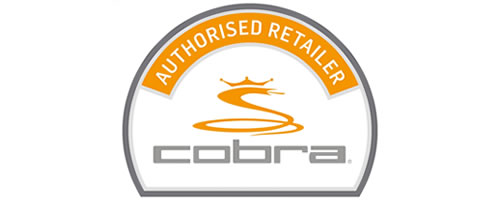 Approved Retailer
Cobra KING F8 Golf Driver
Mens / Right or Left Handed
Product code: 756737 Read More Information
£329.00 or £27.42 / month*
BUY AND SAVE WITH SPECIAL OFFERS
Earn 823 loyalty points worth £8.23 when you buy this product
In stock at Cobra
Ships in 8 days
30 Day Money Back Guarantee even if you hit it
Lowest Price Promise We will beat any web price
Interest Free Finance from £27.42/monthAs part of a £250 minimum spend*
Free UK Returns
Industry Leading Security
20 Years in Business
RANK #1 on
Buy this

and qualify for these Special Offers
You might also be interested in
Product Details
The KING F8 Driver introduces COBRA's first CNC milled driver face paired with 360° Aero™ Technology, bringing you COBRA's smartest, fastest, most precise driver ever. Oversized shape for maximum forgiveness.

Who It's For
5 to 25 handicap golfers with moderate to higher swing speeds. Its oversized shape makes it ideal for those seeking a more forgiving profile and improved distance on mis-hits.
Tune Ball Flight
The back weight setting promotes higher, towering ball flight, while the heel weight setting promotes a slightly lower launch with increased draw bias.
MYFLY 8 with Smart Pad
8 easily adjustable loft settings help you manage trajectory and fine tune launch and spin to maximise distance. Increasing or decreasing the loft will adjust the launch by +/- .5 degrees and the spin by +/- 400 rpms, respectively.
Oversized Profile
A larger clubhead profile at address paired with two very forgiving (back and heel) weight settings, increases MOI for more distance and speed on off-center hits.
Technology
Precision Milled For Maximum Speed
CNC milling yields more precise face thickness controls compared to hand-polishing, allowing COBRA engineers to design a thinner and faster conforming face.
COBRA's Thinnest and Lightest Face
Tighter face thickness tolerances allow the face to be milled as thin as possible to deliver increased deflection for faster ball speeds. This yields a face that is 10% lighter.
Multi Directional CNC Milling Pattern
A multi-directional CNC pattern delivers a thinner face, while the circular milling pattern in the center provides an aesthetically pleasing visual of the Sweet Zone™.
Optimised Sweet Zone With E9 Technology
After analysing over 25,000 unique shots in our testing, we discovered that 99% of golfers hit the face in an elliptical pattern ranging from low heel to high toe. While most golf companies design a circular sweet spot around the center of the face, COBRA's patented E9 Technology™ is designed in an elliptical pattern to create a SWEET ZONE™ that allows more hot spots farther away from the center of the face.
Optimised Trajectories With Dual Roll
Unlike traditional drivers designed with a constant roll radius, COBRA's innovative Dual Roll Technology™ utilises different curvatures on the top and bottom of the face to optimise launch and spin for shots hit above or below face center.
360° Aero Technology
Polymer crown trips are 10% lighter than Titanium, to help improve aerodynamic performance without raising the CG. Titanium trips are utilised on the sole for increased durability, while lowering the CG for enhanced speed.
Custom Fit
At Scottsdale Golf, we like to pride ourselves on offering golfers from all across the world the biggest selection of custom fit options in their new golf equipment.

Standard Options
We offer the standard options from each manufacturer, with the standard specification set-up.

Custom Fit
New golf clubs can very easily be built to suit your individual game. Simply choose your options from the drop-down menus on this product page and the manufacturer will build the golf clubs for you to the exact specification.

What can be changed on my new clubs?
On most golf clubs, you can change the following things:
- Loft
- Lie
- Length
- Shaft
- Shaft Flex
- Shaft Weight
- Grip
- Grip Size

What does Custom Fitting cost?
In many cases, there is no charge. Some manufacturers charge an upcharge for certain shafts or grips but there are many options that don't cost a penny more than the standard set.

Do Custom Fit sets take longer to be delivered?
Yes. As the golf clubs will be built by the manufacturer specifically for you, they may take up to 10-14 working days to be delivered. As soon as we receive them, we will send them on a next day delivery service and email you to let you know they are on the way.

Is there anyone that can help me?
Of course. If you need any advice on custom fit options, please call or email our Golf Professionals. We have people here who are trained in exactly this area so they can talk you through a different shaft of grip. Whatever you need, we are here to help. You can reach us on 0161 969 4644 or at pro@scottsdalegolf.co.uk.
Shafts
MRC TENSEI CK BLUE 50 (R, LITE)
The TENSEI CK Blue provides enhanced stability and feel in an ultra-lightweight shaft. Ideal for medium swing speeds seeking higher launching trajectories with reduced spin for improved dispersion.

ALDILA NV 2KXV BLUE 60 (S, R)
The Aldila NV 2KXV Blue is a midweight shaft ideal for those with mid to high swing speeds seeking a combination of medium trajectory and medium spin.

ALDILA NV 2KXV GREEN 65
The Aldila NV 2KXV Green is a heavier weight shaft ideal for those seeking a combination of low trajectory and low spin. Featuring a higher bend profile, it delivers increased control for higher swing speeds.