Motocaddy S1 Electric Golf Trolley
Black or Alpine / Lithium Battery
Product code: 141022
£449.00
Earn 1123 loyalty points worth £11.23 when you buy this
In stock with Next Day Delivery available
Product Highlights
Available with Lead Acid or Lithium batteries in 18 Hole or 36 Hole size Feature packed, lightweight electric golf trolley that easily folds down Incredibly light to move and folds down small... Read more
Approved Retailer
Delivery & Returns
Interest Free Finance
From only £37.42/month. Choose Pay by Finance at checkout.
Available on all orders over £250
6, 9 or 12 months Interest Free | 24 or 36 months Low Interest
Zero deposit required and super-simple online application
Available for UK customers only
Price Match Promise
We're constantly monitoring our prices to make sure that we're competitive. We will match any online price from an authorised internet retailer. Items have to be the same model, colour and size and be in stock to qualify.
Price Match Promise
2 Free Gifts included with this Motocaddy Electric Trolley



Motocaddy S-Series Accessory Station






Motocaddy 2018 Universal Golf Umbrella Holder



Product Details
Available with Lead Acid or Lithium batteries in 18 Hole or 36 Hole size
Feature packed, lightweight electric golf trolley that easily folds down
Incredibly light to move and folds down small to fit in car boots
Folds down quickly and easily with Motocaddy's 'S Frame' design
Digital control panel offers on/off switch as well speed controls
Low profile wheels with 'sporty' thread ensure plenty of grip
Powerful and efficient 200W motor tackles steep hills
Motor is whisper quiet so won't disturb golfers on the way round
Content
Widely recognised as the most popular electric golf trolley on the market, the top-selling Motocaddy S1 Digital model has won several high-profile awards, including Golf Monthly's fiercely-contested trolley test. This award isn't just handed out, brands really have to work for this recommendation. The sleek look and clean lines ensure that the Motocaddy S1 remains a contemporary trolley on the fairways and perhaps the most straight-forward to use.

The lightweight frame, something that Motocaddy are reknowned for, added to the simple features and unsurpassed reliability make it popular with golfers of all ages and abilities. The S1 Digital features an aerospace grade aluminium frame that is both lightweight and strong so it's perfectly easy to transport and move from the house to the car etc. Motocaddy are famous for their lightweight 'S Frame' that can be folded down in one easy move. This is one the greatest improvements made in the electric trolley market over the last decade. The ease with which golfers can fold and unfold their electric golf trolley is a real plus. The S1 Digital folds down to fit in to the smallest of car boots.

From a usability point of view, the S1 Digital features a dual handle with a built in speed control. The digital reader gives golfers information as to how fast the trolley is going by displaying one of the nine speed settings. Thanks to the distinctive ergonomic handle grips, the Motocaddy S1 Digital is suitable for both right and left handed people as the handles extend in both directions from the digital readout. The speed control also doubles as a simple 'On/Off' switch to give golfers total control over their electric trolley. Low-profile wheels are fitted as standard on this trolley and offer further proof of the stylish and high performance nature of this item.

Highly durable, the Motocaddy S1 Digital electric golf trolley is covered with an extended 2 year warranty and a 1 year battery warranty.
Features
- Lightweight 'S Frame' folds down in one simple move for superb ease of use
- Hollow Aluminium frame ensures the body of the trolley is incredibly light to carry
- Small footprint allows the S1 to fit in the smallest of car boots
- Fully adjustable upper and lower bag supports securely keep your bag in place during play
- Ergonomic handle suitable for right and left handed people
- Speed control on handle allows speed to easily managed in one of nine speed settings
- Simple 'On/Off' switch ensure total control
- Low profile sports wheels provide grip in any situation
- Powerful and efficient 200w motor will not let you down on any golf course
- Motor is very quiet so will not disturb any golfers
- Available in 4 battery options - 18 Hole or 36 Hole Lead Acid or Lithium
- Battery meter shows how much charge is left in the battery
- Compatible with Motocaddy EASILOCK™ golf bag system
- Can easily be fitted with all Motocaddy trolley accessories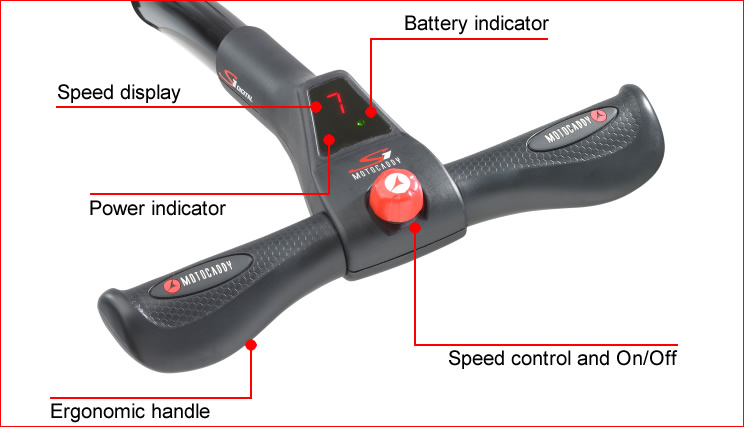 Specification
Weight: 8.4kgs
Folded Dimensions: 870mm(L) x 595mm(W) x 350mm(H)
Motor: 200w
Material: Aluminium
Available colours: Black and Alpine
Battery Options: 18 Hole or 36 Hole Lead Acid / 18 Hole or 36 Hole Lithium
Warranty
Motocaddy electric golf trolleys and chargers are covered by a 24 month warranty from the date of purchase. The warranty covers manufacturing defects that occur during normal use. Any breakage caused by accidental damage or as a result of abuse or misuse (as set out in the relevant manual) or commercial use is not covered. Motocaddy batteries are covered by a separate warranty (12 month Lead Acid / 24 month Lithium) and can be registered online using the Motocaddy Battery Warranty Registration form. The trolley must be registered with Motocaddy within 45 days of receipt of the trolley to extend the warranty on the Lithium battery from 2 years to 5 years.
The standard Motocaddy warranty only covers purchases made in the UK and Republic of Ireland and use of the trolley, battery and charger in the UK and the Republic of Ireland. If you encounter a problem with your trolley, battery or charger within the warranty period, please contact the place of purchase or call Motocaddy direct on 01279 712370 to allow them to rectify the problem as soon as possible. In the unlikely event you need to make a claim you must provide your proof of purchase so please ensure this is retained.
If Motocaddy diagnose that you require a spare part, they will send it to you by first class post with easy to follow fitting instructions. Failing which, Motocaddy will collect, repair (if possible) and return the faulty product (or its replacement) at their cost (in the case of a faulty trolley, this must be in its original packaging). If the fault is not covered by these warranty conditions, you will be liable for the courier and admin charges plus the costs of parts and labour. A repair will normally be carried out but in the unlikely event that the trolley, battery or charger cannot be fixed, a replacement will be given. Any repairs or replacements made without charge do not carry a new warranty beyond that of the original purchase.
The warranties contained herein are offered as an extra benefit and do not affect your statutory rights as a consumer. These warranties are non-transferrable.