Approved Retailer
TaylorMade M2 Golf Driver 2017
Mens / Right or Left Handed
Product code: 103202 Read More Information
£249.00 or £20.75 / month* RRP £369.00 Saving £120.00
Double Loyalty Points Earn 1245 loyalty points worth £12.45
In stock
Next Day Available
30 Day Money Back Guarantee even if you hit it
Lowest Price Promise We will beat any web price
Interest Free Finance from £20.75/monthAs part of a £250 minimum spend*
Free UK Delivery & Returns
Industry Leading Security
20 Years in Business
RANK #1 on
You might also be interested in
Product Details
The 2017 M2 driver brings golfers a new level of distance and forgiveness through all-new GeocousticTM technology. Following in the footsteps of its predecessor, the M2 driver successfully raises the bar in design and engineering through reinvented multi-material construction and advanced geometric shaping. Along with the new Geocoustic design, the M2 driver houses a new Speed Pocket that is three times more flexible than it was in the original M2. Combined, the new M2 takes the #1 selling driver to the next level of performance for all players.
The new lower density 9-1-1 Titanium body, 6-layer carbon composite crown and minimal sound ribs allowed for 25g of discretionary mass to be relocated low and back in the sole of the club. Together, these applications combine to increase the overall inertia of the M2 driver without sacrificing low CG, hot trajectory, or aerodynamic performance.
The new Geocoustic feature combines geometry and acoustical engineering to unlock more forgiveness and best-in-class sound. The new breakthrough in geometry comes from the sunken sole portion of the driver. This section utilizes ultra-light, thick-thin 9-1-1 Titanium—a design that enabled engineers to free up volume without raising the center of gravity.
The breakthrough in acoustical engineering was achieved by the new sunken sole curvature, making it stiffer and easier to manage vibrations caused at impact. With this added stiffness, minimal externalized sound ribs were needed to create best-in-class sound and feel of the M2.
Customized Performance
The M2 is equipped with a new 4° aluminum Loft Sleeve featuring 12 easily adjustable settings. M2 also comes stock with a Fujikura Pro XLR8 56 (high launch), available in A, R, S and X flexes along with a new dual-texture 360 performance grip for great feel throughout the swing.
Technology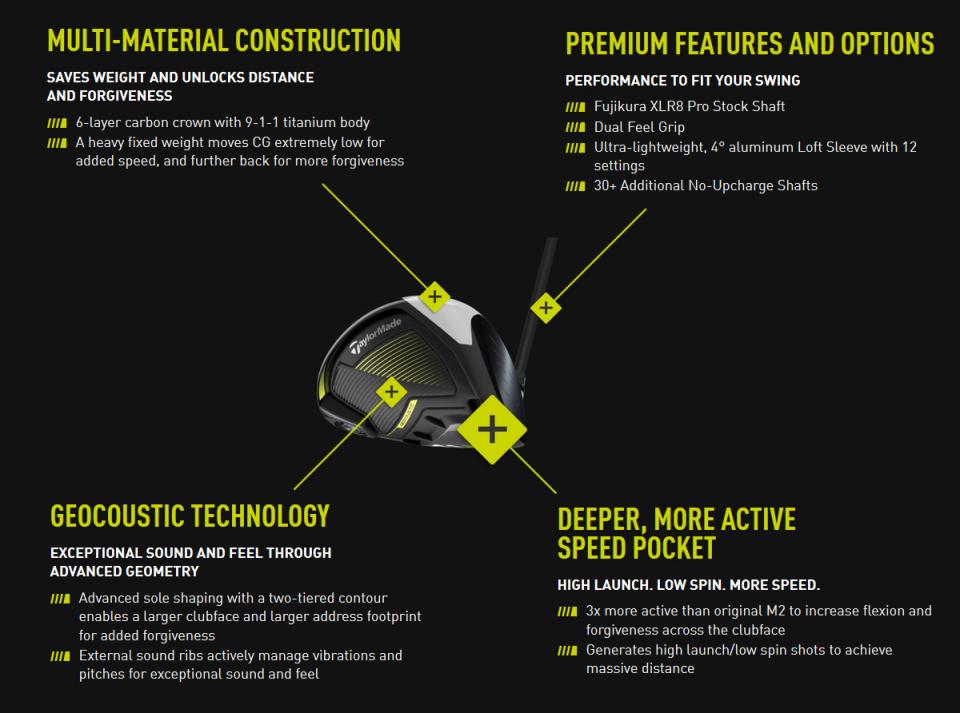 Custom Fit
At Scottsdale Golf, we like to pride ourselves on offering golfers from all across the world the biggest selection of custom fit options in their new golf equipment.

Standard Options
We offer the standard options from each manufacturer, with the standard specification set-up.

Custom Fit
New golf clubs can very easily be built to suit your individual game. Simply choose your options from the drop-down menus on this product page and the manufacturer will build the golf clubs for you to the exact specification.

What can be changed on my new clubs?
On most golf clubs, you can change the following things:
- Loft
- Lie
- Length
- Shaft
- Shaft Flex
- Shaft Weight
- Grip
- Grip Size

What does Custom Fitting cost?
In many cases, there is no charge. Some manufacturers charge an upcharge for certain shafts or grips but there are many options that don't cost a penny more than the standard set.

Do Custom Fit sets take longer to be delivered?
Yes. As the golf clubs will be built by the manufacturer specifically for you, they may take up to 10-14 working days to be delivered. As soon as we receive them, we will send them on a next day delivery service and email you to let you know they are on the way.

Is there anyone that can help me?
Of course. If you need any advice on custom fit options, please call or email our Golf Professionals. We have people here who are trained in exactly this area so they can talk you through a different shaft of grip. Whatever you need, we are here to help. You can reach us on 0161 969 4644 or at pro@scottsdalegolf.co.uk.