Titleist AP3 718 Golf Irons Steel
Mens / Right or Left Handed
Product code: 30580
£769.00
Earn 1923 loyalty points worth £19.23 when you buy this
In stock and will ship in 7 days
Product Highlights
The Player's Distance Iron The all-new Titleist 718 AP3 irons truly represent the best of both worlds. Everything Titleist have learned from creating and advancing the AP1 and AP2 irons over the... Read more
Approved Retailer
Delivery & Returns
Interest Free Finance
From only £64.08/month. Choose Pay by Finance at checkout.
Available on all orders over £250
6, 9 or 12 months Interest Free | 24 or 36 months Low Interest
Zero deposit required and super-simple online application
Available for UK customers only
Price Match Promise
We're constantly monitoring our prices to make sure that we're competitive. We will match any online price from an authorised internet retailer. Items have to be the same model, colour and size and be in stock to qualify.
Price Match Promise
Product Details
The Player's Distance Iron
The all-new Titleist 718 AP3 irons truly represent the best of both worlds. Everything Titleist have learned from creating and advancing the AP1 and AP2 irons over the years has been merged to create their longest, fastest player's iron ever. It's quite simply, the player's distance iron.

Player Benefits
New Titleist 718 AP3 irons provide players with fast and forgiving performance, all in a player preferred shape for control and solid feel.

Specialised in speed
A hollow-blade construction combined with L-Face inserts launches long and high with shot-stopping spin – even on longer shots.

Formidable forgiveness
With AP3 you get the off-center performance of a game improvement iron packed into a club that delivers the feel of a player's iron. Precise when you pure it, and forgiving when you don't.

Distance has a whole new look
Look down and you'll see a player-preferred shape that inspires confidence. Feel even better knowing this beauty of an iron possesses all the distance and forgiveness you demand to play your best.


"Last time I checked, high and far is good."
Justin Thomas, Titleist Brand Ambassador, on the Titleist 718 AP3


About Ascending Mass Iron (AMT) Shafts
Traditional iron shafts feature a constant weight profile - shafts with the same mass properties throughout the set. With ascending mass shaft technology, the weight of each shaft increases by 3 grams throughout the set (long iron to short iron). Most golfers already use ascending weight shafts in their driver, fairways, and hybrids.

The new Titleist AP irons feature ascending mass stock shafts in distinct weight ranges matched to the performance of each model, with lighter long iron shafts for launch and speed and heavier short iron shafts for control.
Features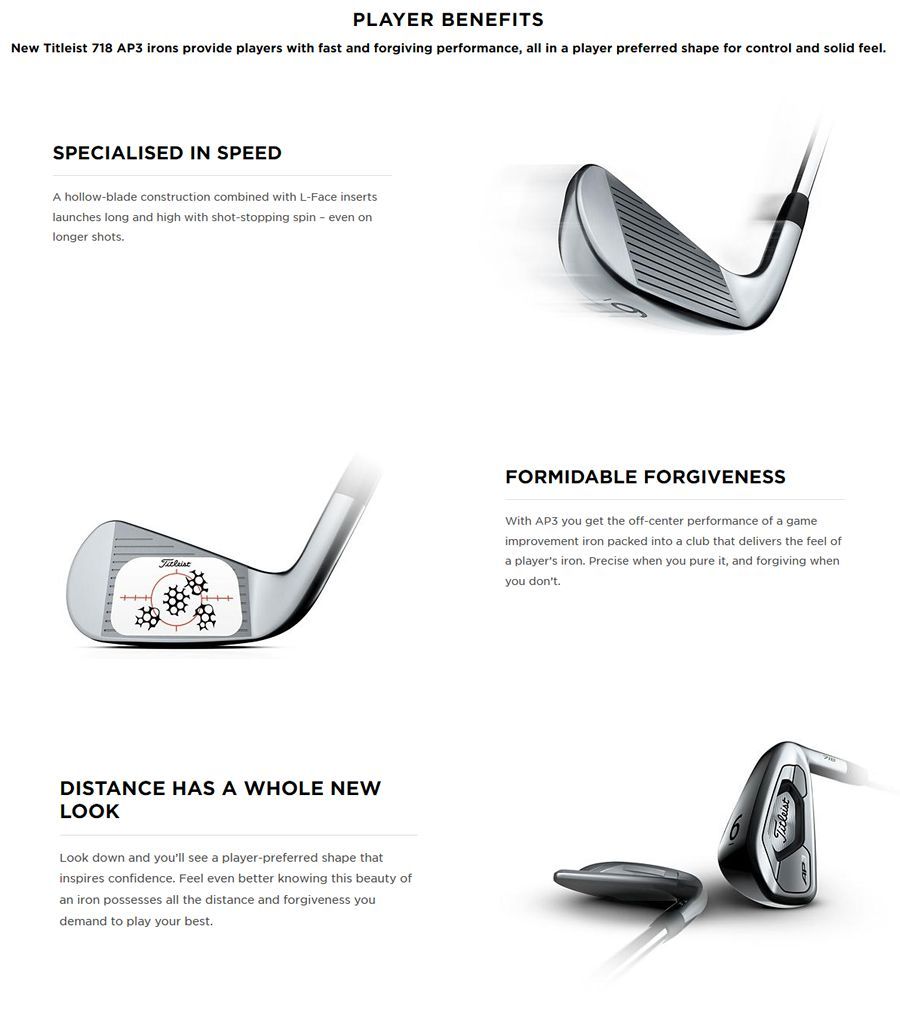 Custom Fit
At Scottsdale Golf, we like to pride ourselves on offering golfers from all across the world the biggest selection of custom fit options in their new golf equipment.

Standard Options
We offer the standard options from each manufacturer, with the standard specification set-up.

Custom Fit
New golf clubs can very easily be built to suit your individual game. Simply choose your options from the drop-down menus on this product page and the manufacturer will build the golf clubs for you to the exact specification.

What can be changed on my new clubs?
On most golf clubs, you can change the following things:
- Loft
- Lie
- Length
- Shaft
- Shaft Flex
- Shaft Weight
- Grip
- Grip Size

What does Custom Fitting cost?
In many cases, there is no charge. Some manufacturers charge an upcharge for certain shafts or grips but there are many options that don't cost a penny more than the standard set.

Do Custom Fit sets take longer to be delivered?
Yes. As the golf clubs will be built by the manufacturer specifically for you, they may take up to 10-14 working days to be delivered. As soon as we receive them, we will send them on a next day delivery service and email you to let you know they are on the way.

Is there anyone that can help me?
Of course. If you need any advice on custom fit options, please call or email our Golf Professionals. We have people here who are trained in exactly this area so they can talk you through a different shaft of grip. Whatever you need, we are here to help. You can reach us on 0161 969 4644 or at pro@scottsdalegolf.co.uk.
Shafts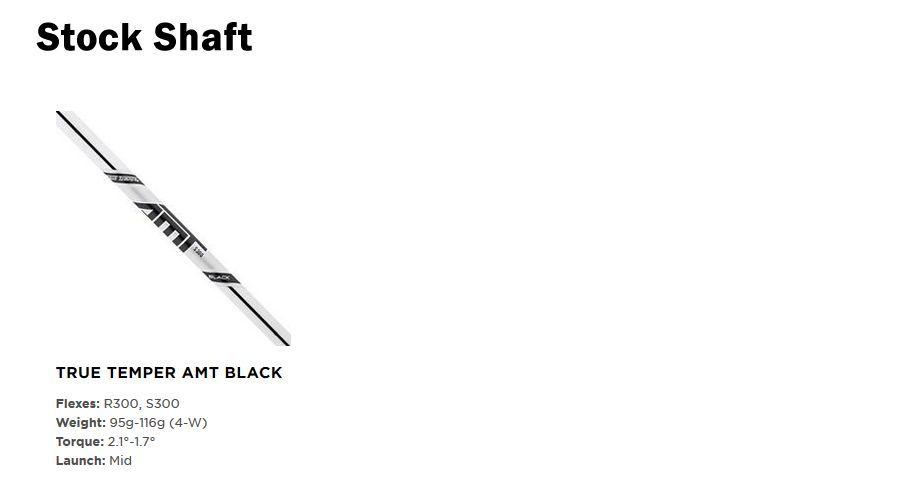 Specification