Titleist Vokey Spin Milled SM6 Wedge Tour Chrome
Mens / Right or Left Handed
Product code: 210047
£140.00 Saving £65.00£75.00
Earn 188 loyalty points worth £1.88 when you buy this
In stock and will ship in 6 days
Product Highlights
Bigger variety of loft, grind and bounce options to suit your swing and course conditions Precise distance and trajectory control with exceptional feel from progressive Centre of Gravity (CG)... Read more
Approved Retailer
Delivery & Returns
Interest Free Finance
From only £6.25/month. Choose Pay by Finance at checkout.
Available on all orders over £250
6, 9 or 12 months Interest Free | 24 or 36 months Low Interest
Zero deposit required and super-simple online application
Available for UK customers only
Price Match Promise
We're constantly monitoring our prices to make sure that we're competitive. We will match any online price from an authorised internet retailer. Items have to be the same model, colour and size and be in stock to qualify.
Price Match Promise
Product Details
Bigger variety of loft, grind and bounce options to suit your swing and course conditions
Precise distance and trajectory control with exceptional feel from progressive Centre of Gravity (CG) location.
Enhanced shot versatility to fit your swing type and course conditions courtesy of Bob's tour proven grinds.
More spin from TX4 grooves with new parallel face texture producing a sharper, more consistent groove edge.
Available in three finishes - Tour Chrome, Steel Grey and Jet Black
Industry leading selection of custom options.
Content
Technology
Spin Milled technology with deeper TX4 grooves produce maximum spin with distance and trajectory control. TX4 grooves channel away grass and sand for improved contact between the ball and groove edge. Every Spin Milled 6 wedge face is milled to the tightest tolerance and 100% inspected.

Craftsmanship
For years, Bob Vokey has utilised Tour player input and feedback to develop high performance shapes and grinds. Spin Milled 6 features a compact, balanced shape with a shorter blade length and rounder toe profile.

Lower Scores
Spin Milled 6 wedges provide the widest selection of bounce and grind options to fit your swing type, shot technique and course conditions, with more sole grinds taken directly from Bob Vokey's work with the world's best players.

More Spin
All golfers can gain more spin with better trajectory and distance control from deeper TX4 grooves. TX4 grooves channel away grass and sand for improved contact between the ball and groove edge.

Increased Groove Durability
This comes from a high frequency face heat treatment for longer spin retention over the life of the wedge.

Tour Proven Sole Grinds
Different sole grinds allow you to execute more shots. SM6 provides the most effective selection of bounce and grind options to fit your swing style, shot technique or course conditions.

Compact Profile
Vokey SM6 golf wedges have a balanced shape, shorter blade length and rounder toe profile created from PGA Tour player feedback.

Clean Looks
SM6's come in three finish options: Tour Chrome, Steel Grey and Jet Black.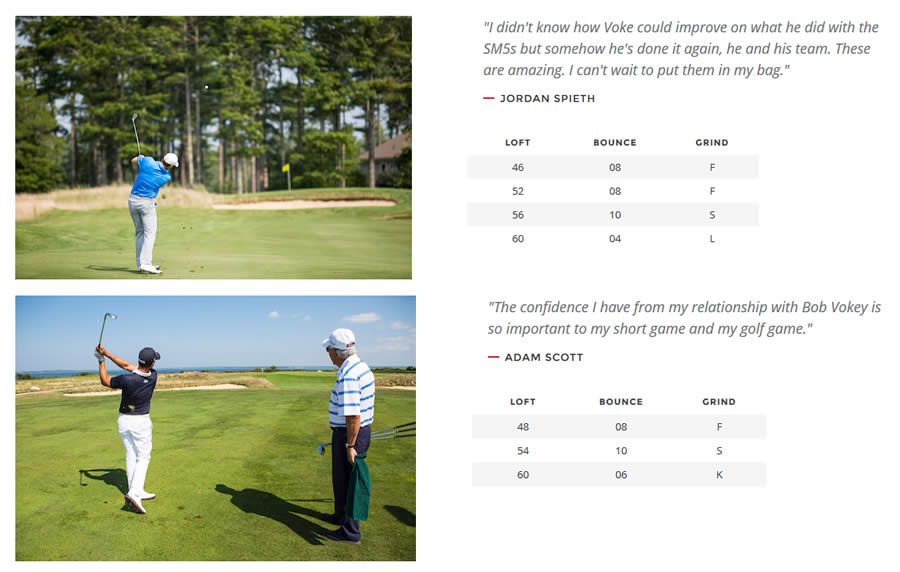 Technology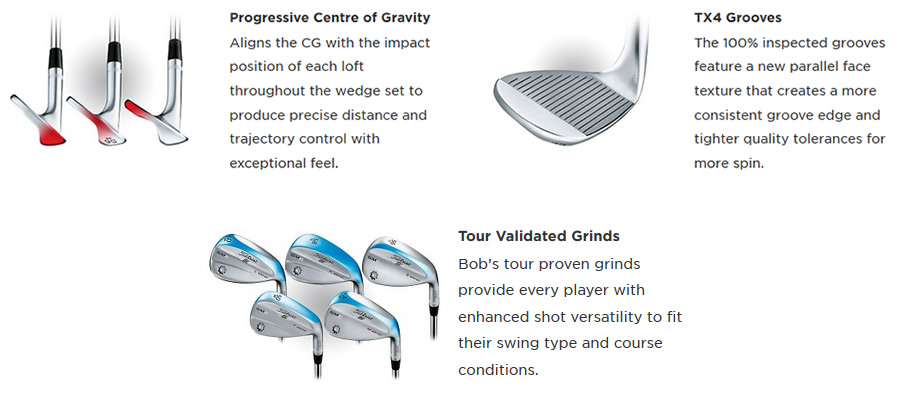 Features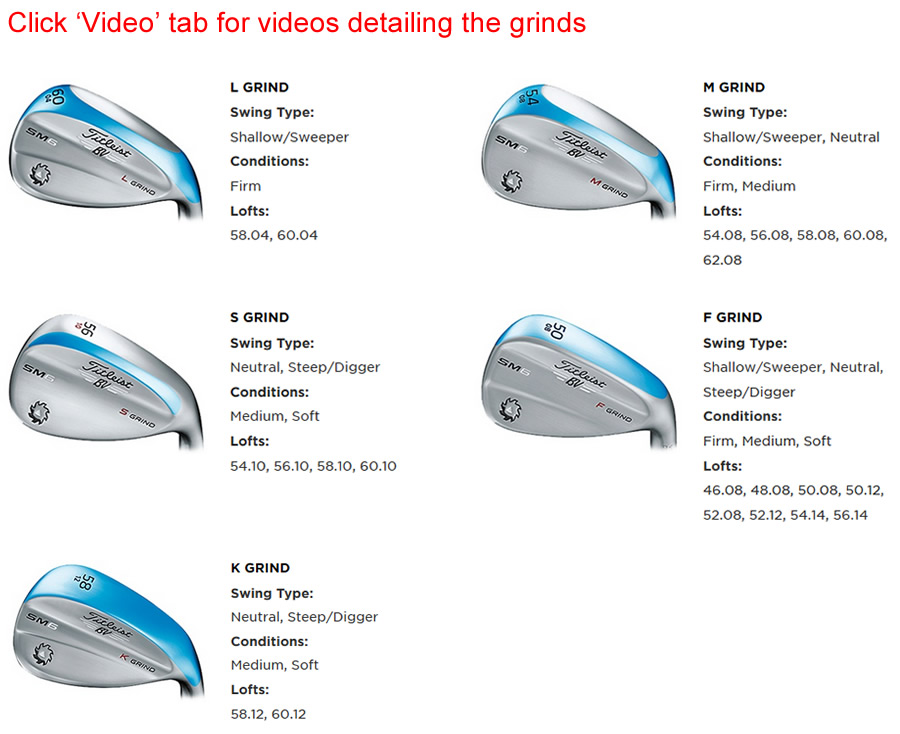 Custom Fit
At Scottsdale Golf, we like to pride ourselves on offering golfers from all across the world the biggest selection of custom fit options in their new golf equipment.

Standard Options
We offer the standard options from each manufacturer, with the standard specification set-up.

Custom Fit
New golf clubs can very easily be built to suit your individual game. Simply choose your options from the drop-down menus on this product page and the manufacturer will build the golf clubs for you to the exact specification.

What can be changed on my new clubs?
On most golf clubs, you can change the following things:
- Loft
- Lie
- Length
- Shaft
- Shaft Flex
- Shaft Weight
- Grip
- Grip Size

What does Custom Fitting cost?
In many cases, there is no charge. Some manufacturers charge an upcharge for certain shafts or grips but there are many options that don't cost a penny more than the standard set.

Do Custom Fit sets take longer to be delivered?
Yes. As the golf clubs will be built by the manufacturer specifically for you, they may take up to 10-14 working days to be delivered. As soon as we receive them, we will send them on a next day delivery service and email you to let you know they are on the way.

Is there anyone that can help me?
Of course. If you need any advice on custom fit options, please call or email our Golf Professionals. We have people here who are trained in exactly this area so they can talk you through a different shaft of grip. Whatever you need, we are here to help. You can reach us on 0161 969 4644 or at pro@scottsdalegolf.co.uk.
Shafts
Custom Fit Shafts
You can choose from the huge range of Custom Fit shaft options offered by Titleist.
Here is a link to the Titleist Custom Fit guide displaying all the options that are offered.
If the shaft you require is not listed in the shaft dropdown, please let us know and we will add it for you.

Shaft Comparison Chart
Golf shafts are made with different characteristics. As well as flex, shafts can have different weights, can make the ball fly higher or lower and impart different amounts of spin on the ball.
This handy comparison chart offers a guide about the different flights and spin rates of the shafts available in Titleist golf irons.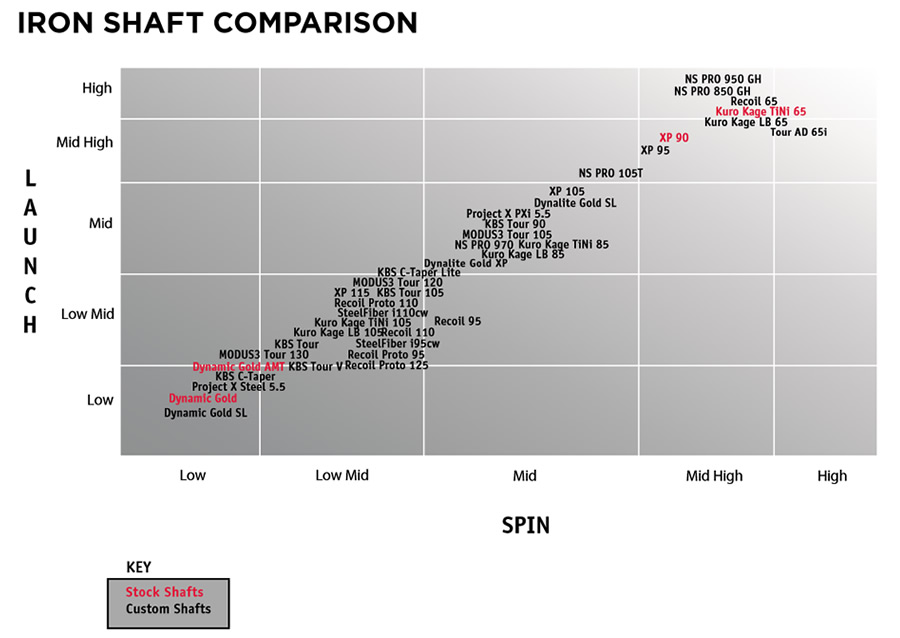 Grips
Below are the grips that can be added to Titleist Golf Clubs. If the grip you require is not listed in the grip option dropdown, please let us know and we will add it for you.

Specification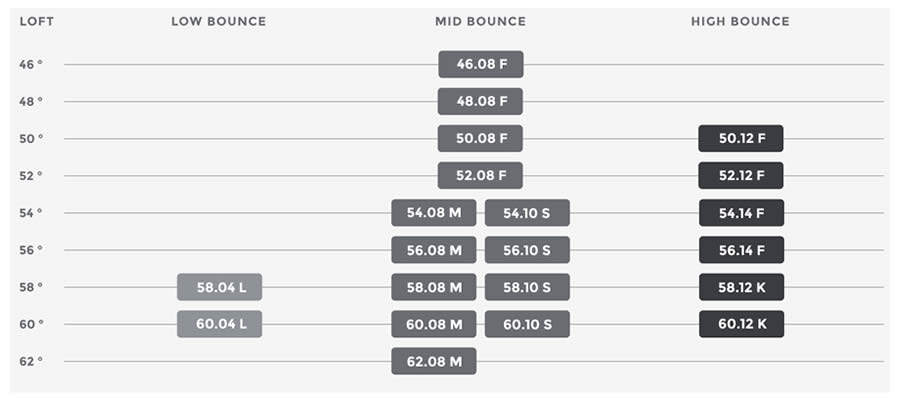 Fitting