We're moving warehouse Shipping times delayed
Callaway Mavrik Max Golf Driver
Mens / Right or Left Handed
Product code: 422239
£469.00 Saving £20.00£449.00
Make 3 payments of £149.67 or pay in 30 days with

No fees.
In stock with premium delivery available
DISCOUNT OFFER - SAVE £15.00 PER CLUB
When you buy this with any additional Driver, Fairway, Hybrid or Driving Iron
Delivery & Returns
Loyalty Points
Earn 1123 loyalty points worth £11.23
When you buy this product 1123 Loyalty Points will be added to your account after the 30-day returns window has elapsed. Loyalty Points are accrued on every order and can be spent on any item at any time during the checkout.
Loyalty Points
Buy this product

and qualify for these Special Offers

*Excludes items already on sale or discounted
Product Details
CALLAWAY MAVRIK MAX DRIVER
The Callaway Mavrik Max driver is the most forgiving driver in the new Mavrik range. With a large footprint and profile that looks bigger than its 460cc it certainly inspires confidence at address. Featuring clean, classic aesthetics it certainly looks the part and underneath the traditional looking crown the Callaway Mavrik Max driven is laden with the latest technology.
When Callaway first announced that they were using Artifical Intelligence to help design new driver ranges there was some light scoffing to be heard from the golfing public. Since then though, each new Callaway driver has offered the very pinnacle of performance proving that their new A.I. methods are successfully bringing the most cutting-edge tech to market.
With the most upright lie angle of all the Mavrik drivers, the Max is the one to go for if you are looking to straighten up a fade or a slice as it helps to get the loft of the driver pointing left. Just like the subzero version there are two interchangeable weights to be found on the soleplate, but one of them is placed differently on the Max. The heavy weight (14g) can be placed in the weight port on the heel side of the driver, which offers more of a draw bias and helps bring down the spin. If a fade is not your problem then the heavy weight can be placed at the back of the head which is this driver's most forgiving setting. Available in 9-, 10.5- and 12-degree heads there is excellent adjustability available through the Callaway's superb Optifit hosel design.
Callaway's new Flash Face can be found on the Mavrik Max, which helps to promote faster ball speeds on strikes that are off centre. Jailbreak technology and the use of a new lighter Titanium allows the weight of the head to be redistributed for increased moment of inertia and makes the Mavrik Max driver incredibly easy to hit.
The sound and feel of the Callaway Mavrik Max driver are superb and unlike any other driver on the market. With a muted thud at impact you feel like you have hit an extremely solid golf club and it is a big improvement on the 'ting' noises found in other drivers.
If you are a mid to high handicapper looking to stretch your driver performance out, then the Callaway Mavrik Max comes highly recommended. With stunning looks and industry leading performance Callaway have once again produced a driver that can seriously improve your game.
FEATURES AT A GLANCE
Draw Biased club head
Interchangeable weights for easy ball flight optimisation
A.I Designed Flash Face produces amazing ball speeds
Very high M.O.I
Callaway MAVRIK MAX is well suited for players who want a long, easy-to-hit driver with the ability to reduce slices off the tee. It has the largest footprint of the three models, boasts the highest MOI, is the easiest to launch, and has the most draw bias capability. For golfers who struggle with impact dispersion, MAX offers a tremendous amount of high-speed surface area on the face. MAX also incorporates two interchangeable weights, 14g and 2g, positioned in the sole near the heel and center-back. Installing the heavier weight in the heel creates maximum draw bias; installing it in the back creates maximum MOI. Available in 9º, 10.5º and 12º lofts.
Specification

Shafts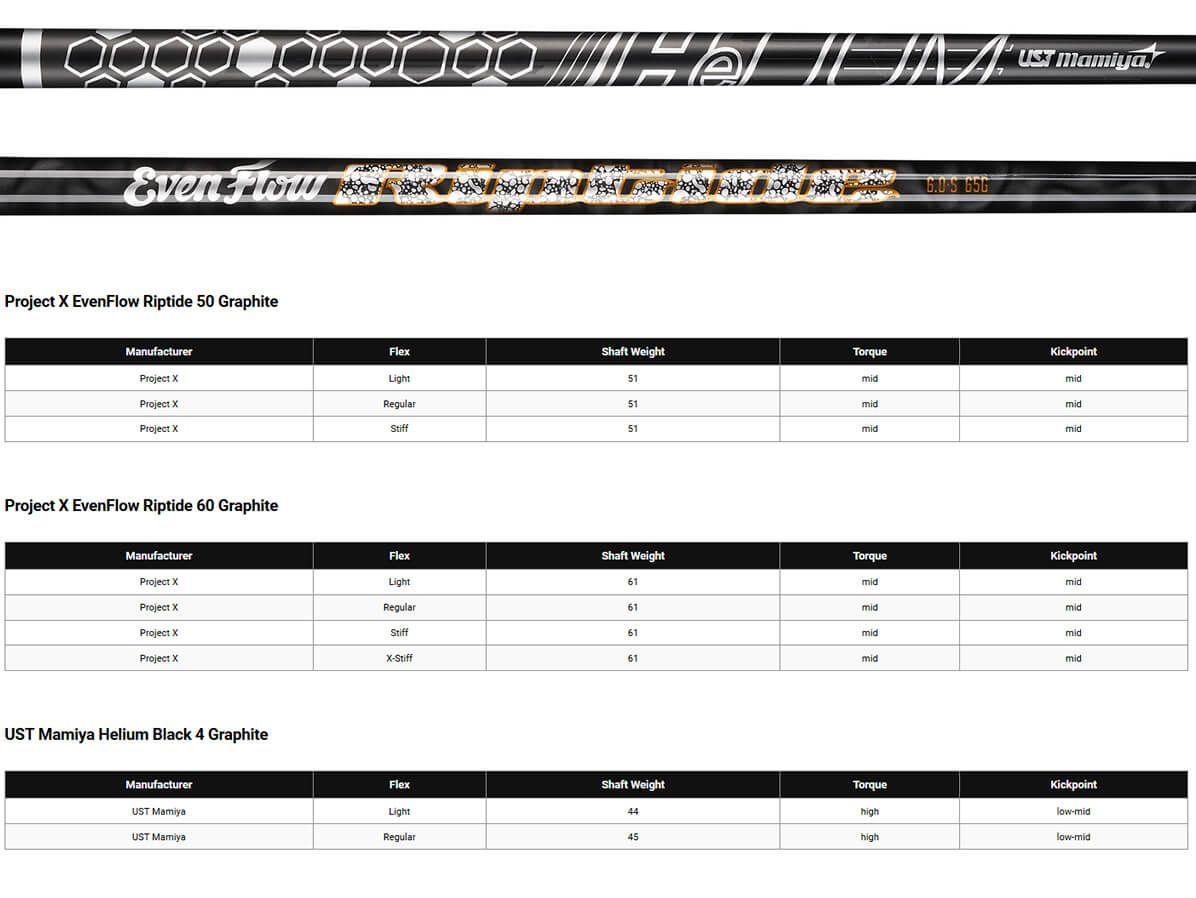 Custom Fit
At Scottsdale Golf, we like to take great pride in offering golfers from all around the world the greatest selection of custom-fit options in their new golf clubs.
Standard Options
We provide the standard options from each manufacturer, with the standard specification set-up.
Custom Fit Callaway Mavrik Max Golf Driver
New golf clubs can easily be created to match your individual game. Simply choose your options from the drop-down menus on this product page and the manufacturer will build the golf clubs for you to the exact specification.
What can be changed on my new clubs?
On most golf clubs, you can customise the following items:
Loft
Lie
Length
Shaft
Shaft Flex
Shaft Weight
Grip
Grip Size
What does Custom Fitting cost?
In most cases, there isn't any charge. Some producers do charge an upcharge for certain shafts or grips but there are plenty of options that don't cost a penny more than the standard set.
Do Custom Fit sets take more time to be delivered?
Yes. As the golf clubs will be built by the producer tailored for you, they may take up to 10-14 working days to be delivered. As soon as we receive them, we will send them on a next day delivery service and email you to let you know they are on the way.
Is there anyone that can help me?
Of course. If you need any information on custom made options, please call up or email our Golf Professionals. We have people here who are trained in exactly this area so they can talk you through a different shaft of grip. What you may need, we're here to help. You can reach us on 0161 969 4644 or at pro@scottsdalegolf.co.uk.
Features and Benefits
Callaway Epic Flash set new boundaries by being the first driver developed with the aid of Artificial Intelligence and Machine Learning, which led to it being the #1 selling driver model in 2019. To push performance even further, we adopted a maverick's rebellious and disruptive attitude. That's how Callaway's world class R&D team created the new MAVRIK line, with the finest combination of distance, forgiveness, consistency and feel we've ever built in a driver.

With Callaway MAVRIK they invested in a new and more powerful supercomputer, which significantly advanced our understanding of A.I. and Machine Learning. And they discovered how to apply A.I. to make smarter and wider-ranging performance improvements in the face and throughout the clubhead. The incredible innovations in this driver are led by a new Flash Face SS20 architecture, with a thinner face and more expansive area that delivers ultra-fast ball speeds. The supercomputer operated for weeks, through thousands of virtual prototypes, until it arrived with a completely new face architecture, created to specifically work with the head of each Callaway MAVRIK driver.

The complexity of each Callaway MAVRIK Flash Face SS20 design demanded a stronger material to stand up to the stress of impact, so for the first time we're using FS2S titanium in a club face, an exotic material that is remarkably strong and light—a full 6 grams lighter than traditional materials. From this high end titanium, we can consistently maintain ball speeds without sacrificing any integrity in the club face.

In addition to all the remarkable new technologies in Callaway MAVRIK Drivers, they have utilized several proven technologies that are crucial to the overall performance – Jailbreak and a T2C Triaxial Carbon Crown. Jailbreak features two internal bars behind the face that connect the sole and crown to promote faster ball speed. And our T2C triaxial carbon crown is significantly lighter than a titanium crown, allowing our engineers to redistribute additional weight to raise MOI and forgiveness.

Callaway's R&D team also took maverick thinking well beyond the club face, using A.I. to help tune the acoustics of the head. Specifically, they used A.I. to optimize the internal structure and position of numerous ribs to create an immensely satisfying sound and feel.