We're delivering as usual View delivery options
Cobra KING F9 Speedback Golf Driver Black/Yellow
Mens / Right Handed
Product code: 1914243
£399.00 Saving £149.01£249.99
Make 3 payments of £83.33 or pay in 30 days with
No fees.
Delivery & Returns
Loyalty Points
Earn 625 loyalty points worth £6.25
When you buy this product 625 Loyalty Points will be added to your account after the 30-day returns window has elapsed. Loyalty Points are accrued on every order and can be spent on any item at any time during the checkout.
Loyalty Points
Product Details
WHAT IT IS.
SPEEDBACK Technology is a revolutionary advancement in engineering, creating the first driver to successfully combine an aerodynamic shape with a low center of gravity to optimize club speed and ball speed for maximum distance.
WHO IT'S FOR.
Three different models (9.0, 10.5 and 12.0) feature 8 adjustable lofts and a front to back adjustable CG system, allowing golfers of all abilities (Tour to 25 handicaps) to find the perfect launch & spin configuration for their game.
WHY COBRA MADE IT.
Our engineers identified a common problem in today's driver designs: to get optimal aerodynamic properties, you have to sacrifice other parts of the design. SPEEDBACK™ Technology is a revolutionary breakthrough in driver engineering and is the first to combine a streamlined, aerodynamic shape with a low center of gravity. Paired with the only CNC milled driver face, it delivers substantial improvements in club speed, ball speed and distance without sacrificing forgiveness.
THE ULTIMATE FORMULA FOR SPEED
Longer starts with Faster. Faster starts with SPEEDBACK, a revolutionary advancement in low CG, efficient aerodynamics, and precision CNC milled face technology that delivers the Ultimate Formula For Speed.
CNC PRECISION MILLED FACE
In an industry where everyone claims to have a fast driver face, ours is the only one that is CNC milled. A process that is up to 5 times more precise than conventional hand-polished driver faces, CNC milling delivers our thinnest and hottest face design repeatedly on every driver.
- UP TO 5 TIMES MORE PRECISE
CNC milling allows face thicknesses and curvatures to be controlled to tighter tolerances, ensuring consistent performance across every driver manufactured.
- INDUSTRY LEADING TECHNOLOGY
CNC milling is an industry leading technology that took two and a half years to perfect. We are the only company to feature CNC milling in both our driver and fairway faces.
- COBRA'S THINNEST & HOTTEST FACE
CNC milling yields more precise face thickness compared to manual hand polishing, allowing us to design a thinner and faster conforming face.
COBRA'S FIRST EVER CARBON WRAP CROWN
Continually pushing the boundaries of innovation, Cobra engineers have created our largest carbon fiber crown design that is the first to wrap over the crown onto the body. This design produces a 12% larger carbon fiber area that saves 10 grams compared to titanium driver crowns.
360 AERO TECHNOLOGY
Polymer crown trips are positioned relative to the direction of airflow around the club head to reduce drag and increase clubhead speed. Using a lightweight polymer material on the crown trips improves aerodynamics without raising the center of gravity. Titanium trips are positioned on the sole to speed up the flow of air traveling underneath the driver.
TUNE YOUR BALL FLIGHT
The KING® F9 SPEEDBACK™ drivers feature adjustable center of gravity (CG) and MyFly loft technologies, allowing you to fine-tune trajectory and launch to maximize distance.
Specification
Shafts
Tour After Market Shafts
Tour aftermarket shafts in varying weights and flex profiles are paired with each driver loft (9.0, 10.5, and 12.0) to complement the performance of the head. Actual aftermarket structures feature premium materials and stiffer, lower torque profiles that reduce spin for improved distance and dispersion.
UST HELIUM (4F2 - LITE, 5F3 - REG)
Available in the 10.5 and 12 heads in regular and lite flex. Designed for golfers seeking a lightweight shaft with extreme stability, Helium is ideal for moderate to medium swing speeds who would benefit from a high-launch and mid-spin profile.

FUJIKURA ATMOS TOUR SPEC BLUE 6
Available in the 9.0 and 10.5 heads in stiff and regular flex. The ATMOS Tour Spec Blue is a midweight shaft ideal for medium to faster swing speeds seeking a mid-launch, mid-spin profile.

PROJECT X HZRDUS SMOKE 60
Available in the 9.0 and 10.5 heads in extra-stiff and stiff flex. The HZRDUS Smoke is a midweight shaft ideal for medium to faster swing speeds seeking maximum playability and control in a mid-launch, low-spin profile.

FUJIKURA ATMOS TOUR SPEC BLACK 7
Available in the 9.0 head in extra-stiff and stiff flex. The ATMOS Tour Spec Black features a stouter and heavier profile ideal for faster swing speeds seeking a low-launch, low-spin profile.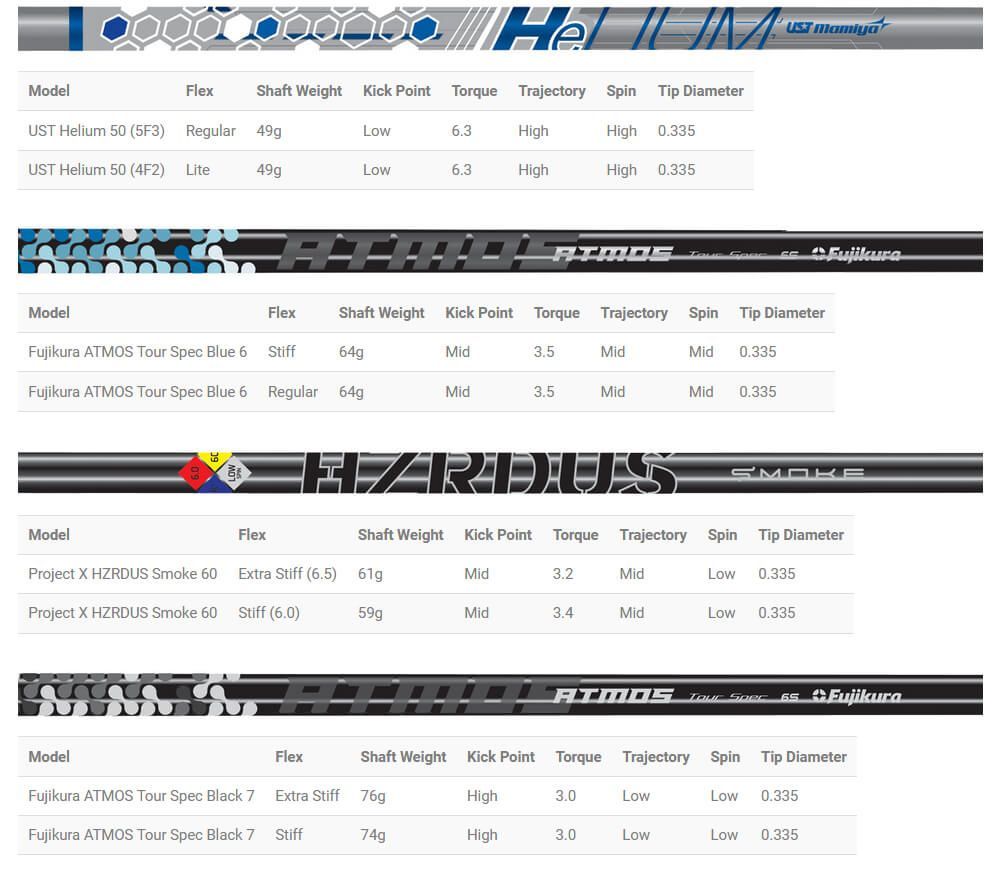 Custom Fit
At Scottsdale Golf, we like to pride ourselves on offering golfers from all across the world the biggest selection of custom fit options in their new golf equipment.

Standard Options
We offer the standard options from each manufacturer, with the standard specification set-up.

Custom Fit
New golf clubs can very easily be built to suit your individual game. Simply choose your options from the drop-down menus on this product page and the manufacturer will build the golf clubs for you to the exact specification.

What can be changed on my new clubs?
On most golf clubs, you can change the following things:
- Loft
- Lie
- Length
- Shaft
- Shaft Flex
- Shaft Weight
- Grip
- Grip Size

What does Custom Fitting cost?
In many cases, there is no charge. Some manufacturers charge an upcharge for certain shafts or grips but there are many options that don't cost a penny more than the standard set.

Do Custom Fit sets take longer to be delivered?
Yes. As the golf clubs will be built by the manufacturer specifically for you, they may take up to 10-14 working days to be delivered. As soon as we receive them, we will send them on a next day delivery service and email you to let you know they are on the way.

Is there anyone that can help me?
Of course. If you need any advice on custom fit options, please call or email our Golf Professionals. We have people here who are trained in exactly this area so they can talk you through a different shaft of grip. Whatever you need, we are here to help. You can reach us on 0161 969 4644 or at pro@scottsdalegolf.co.uk.
Technology

Features