Arccos 360 Golf Performance Tracking System
Advanced GPS Shot Tracking Analysis
Product code: 139081
£229.00
Earn 573 loyalty points worth £5.73
Product Highlights
The best way to improve your game is to know your game. And the best way to know your game is to have every shot automatically tracked and analysed. Arccos does this seamlessly, without... Read more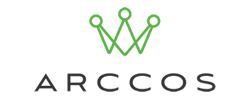 Approved Retailer
Delivery & Returns
Billing Terms
How can I pay for my order?
We offer our international online shoppers a seamless localised experience tailored to your preferences. Available payment methods will vary during the checkout process according to what is supported in your country.
Billing Terms
Loyalty Points
Earn 573 loyalty points worth £5.73
When you buy this product 573 Loyalty Points will be added to your account after the 30-day returns window has elapsed. Loyalty Points are accrued on every order and can be spent on any item at any time during the checkout.
Loyalty Points
Product Details
The best way to improve your game is to know your game. And the best way to know your game is to have every shot automatically tracked and analysed.
Arccos does this seamlessly, without interrupting your routine, and makes all your data available instantly whenever you want it – either on the course or after your round. That's why Arccos is THE brand leading golf into tomorrow.
What Is Arccos?
Combining Live Shot Tracking + GPS 2.0 + Tour Analytics, Arccos has been widely heralded as one of golf's most remarkable new technologies. Designed to help golfers of all skill levels shoot lower scores and have more fun, Arccos harnesses the power of personal data to reveal users' strengths and weaknesses.
Claim Your Crown
King of the Hole turns any par-4 or par-5 into a virtual long drive competition.
Created to make every round even more fun, Arccos' proprietary King of the Hole game features a live leaderboard for every driving hole on 40,000 courses. Each leaderboard is populated with info on the 10 longest drives struck on that hole, including the players' names and distances. Dubbed "King of the Hole," the longest driver earns the coveted crown, and receives automatic notification if he or she is dethroned.
Live Shot Tracking
Automatically records every shot a golfer makes and analyses the data in real time to enhance on-course decision-making.
GPS 2.0
Combines hands-free shot mapping with rangefinder distances in yards or meters to any point on more than 40,000 courses.
Tour Analytics
Breaks down a players' handicap into five key components – driving, approach, chipping, sand game and putting – to speed improvement by revealing strengths and weaknesses.
Content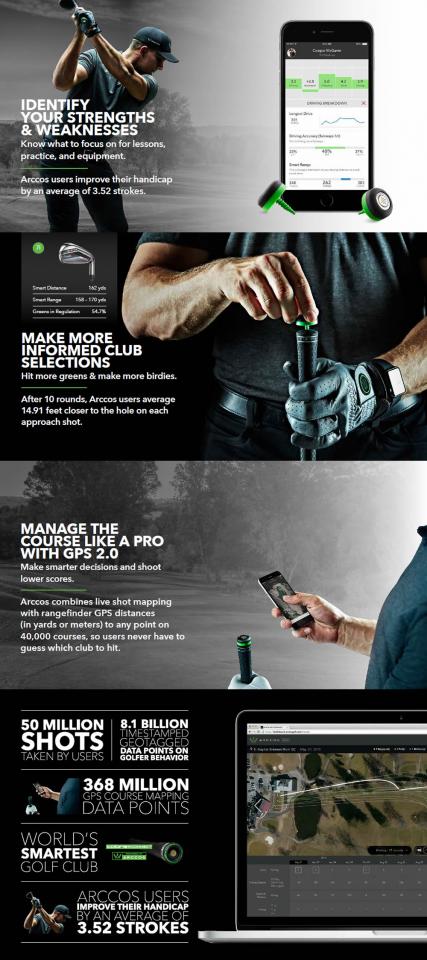 Technology
How It Works
Attached to the grip end of a club, each Arccos sensor is paired – just once – with a free app for iOS and Android devices. The sensors then automatically register every shot you take – while ignoring practice swings – allowing the Arccos system to seamlessly and accurately record and analyse a player's performance data. Notably, the Arccos 360 system and Cobra Connect Powered by Arccos drivers showcase second-generation sensor technology. This includes a permanent battery that requires no charging, is certified for 24 months and is designed to last even longer. It also allows users to play rounds in low power or airplane modes, dramatically reducing phone battery drain and eliminating data roaming during international travel.
Tech Specs
14 sensors per box
Each sensor fits the grip end of any standard club
Virtually weightless (less than 4 grams per sensor)
Zero swing impact
Permanent battery that requires no charging
Battery life certified for 24 months, designed to last much longer
Compatible with select Android OS Lollipop and above, iPhone 4s and above