Voice Caddie SC200 Swing Caddie Pro Edition Launch Monitor
Portable / Instant Feedback On Your Swing
Product code: 207490
£299.99 Saving £40.00£259.99
2 x Loyalty Points Earn 1300 loyalty points worth £13.00
In stock with Next Day Delivery available
Product Highlights
Portable Launch Monitor Loft Angle Selectable Voice Distance Output Barometric Pressure Calibration Carry Distance, Swing Speed, Ball Speed, Smash Factor Remote Control Read more
Delivery & Returns
Interest Free Finance
From only £21.67/month. Choose Pay by Finance at checkout.
Available on all orders over £250
6, 9 or 12 months Interest Free | 24 or 36 months Low Interest
Zero deposit required and super-simple online application
Available for UK customers only
Price Match Promise
We're constantly monitoring our prices to make sure that we're competitive. We will match any online price from an authorised internet retailer. Items have to be the same model, colour and size and be in stock to qualify.
Price Match Promise
Product Details
Portable Launch Monitor
Loft Angle Selectable
Voice Distance Output
Barometric Pressure Calibration
Carry Distance, Swing Speed, Ball Speed, Smash Factor
Remote Control
Content
The Swing Caddie SC200 Launch Monitor is a Standalone device (no phone app needed) that will offer Instant feedback via LCD display of your golf stroke. It will measures the Carry Distance, Swing Speed, Ball Speed and Smash Factor and return these results on the display. This unit also has Distance Voice output and Selectable Loft Angle. Use in 3 Modes: Practice, Target, Random and statistics for each club used. SC200 will display shot count and time display - it has a built in air pressure sensor for most accurate reading possible. The device comes with remote control for ease of use.


Features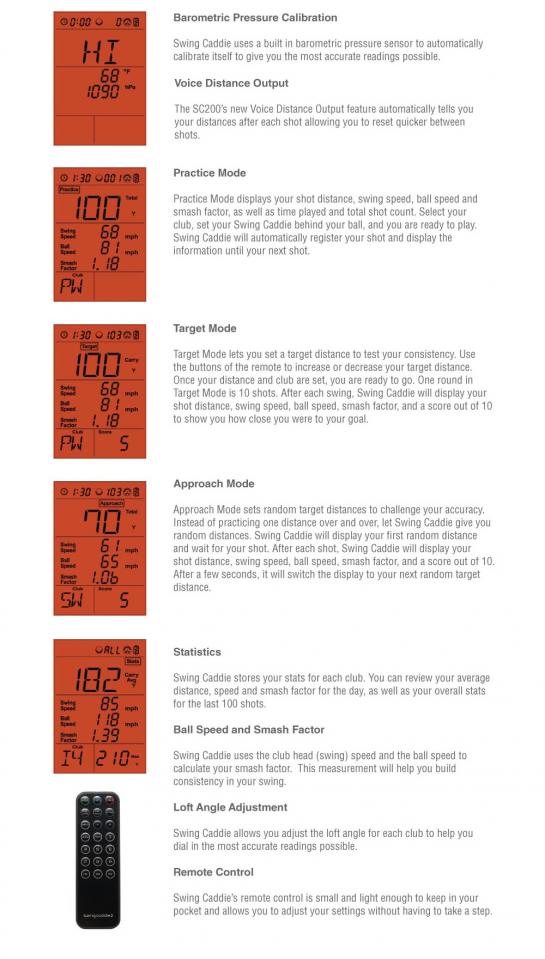 Specification