UK Returns
There's no need to let us know you're returning something (unless it's a faulty item - more on that below), just fill in the Returns Form inside your parcel and pop it back to us.
How to return an order to Scottsdale Golf for free
For UK customers, virtually all returns are free. You can either send them back using Royal Mail or Collect+.
The labels won't cover very large items like golf clubs, bags or trolleys (see limits below) but everything else can be returned for free using either Royal Mail or Collect +.
Simply click on the logo of your preferred method to create a free label.
Free Returns Size Limit and Insurance
The size and weight limit for Free Returns is as follows:
Maximum Size: 61cm (L) x 46cm (W) x 46cm (D)
Maximum Weight: 20kgs

Unfortunately we cannot cover the costs for returning items that fall outside these limits.
Parcels sent using our Free Returns service are covered up to the value of £50.00. If you are sending something more valuable back, you may wish to use another service.
Please keep a copy of your receipt or tracking number.
Refunds
If you want a refund, just tick refund on the Returns Form. We'll let you know when your parcel arrives back with us and refund the price you paid for your item back to your original payment method within 5 working days of receipt of the Return Received Email.
Exchanges
If you want an exchange you will need to fill in what you want as the replacement. As soon as the return arrives back, we will let you know the timeframe of the new shipment.
Quickest Exchange
The best method to get your exchange quickly and guarantee the item you want is to simply place a new order and send the original back for a refund.
Original Condition
With all returns, please return your items in the condition in which you received them. Obviously we want you to try your items on or have a look at them so you are comfortable with them like you would do in a shop - just be careful with any clothing tags and packaging. Items missing tags and packaging will be returned to the customer.
Faulty Goods
If you have a product that has developed a fault, it will need to be returned to us so that we can return it to the manufacturer to begin a claim under warranty.
In all cases the Faulty Form needs to be filled out in advance of sending the item back to us.

Here is the procedure for returning a faulty item:
1) Please fill out the Faulty Form
2) Send the item back to us using one of the free returns methods above or a service of your choosing
3) We will let you know as soon as the item arrives back with us and keep you up to date on the progress of the return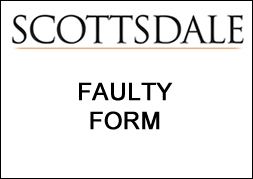 Return Received Email
No matter whether you return a parcel for an exchange, refund or because an item has developed a fault, as soon as we receive your parcel, we'll send a Return Received Email. You now know that your return has arrived back with us safely. Please note that the Return Received Email can be sent up to 2 working days after the tracking information says that we have received it.
Custom Fit & Personalised
Please note that custom fit and personalised orders can only be returned for replacement/repair/refund if they are faulty or misdescribed.
Health and Hygiene
For reasons of health and hygiene we cannot accept returns on Underwear or Swimwear.
Returns Form Download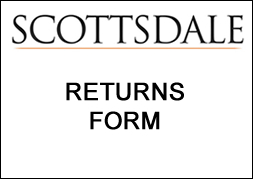 Return Address
Scottsdale Golf Returns
Unit 5 Mayfield Industrial Estate
Liverpool Road
Manchester
M44 6GD