Bushnell Pro X2 Jolt Golf Laser Rangefinder
Grey
Product code: 137472 MPN: 0
£399.00 Saving £20.00£379.00
2 x Loyalty Points Earn 1895 loyalty points worth £18.95
In stock with Next Day Delivery available
Product Highlights
Slope-Switch Technology Rubber Armored Metal Housing IPX7 Fully Waterproof PinSeeker with JOLT Technology Accurate to a 1/2 yard Ranges 5-1,300 Yds; 450+ Yds to a Flag Dual Display... Read more
Approved Retailer
Delivery & Returns
Interest Free Finance
From only £31.58/month. Choose Pay by Finance at checkout.
Available on all orders over £250
6, 9 or 12 months Interest Free | 24 or 36 months Low Interest
Zero deposit required and super-simple online application
Available for UK customers only
Price Match Promise
We're constantly monitoring our prices to make sure that we're competitive. We will match any online price from an authorised internet retailer. Items have to be the same model, colour and size and be in stock to qualify.
Price Match Promise
Product Details
Slope-Switch Technology
Rubber Armored Metal Housing
IPX7 Fully Waterproof
PinSeeker with JOLT Technology
Accurate to a 1/2 yard
Ranges 5-1,300 Yds; 450+ Yds to a Flag
Dual Display Technology
6X Magnification
2nd Generation E.S.P.
Fast Focus System
Stable-Grip Technology
Bushnell case and battery included
2 year warranty
Content
All of Bushnell Golf's industry-leading laser rangefinder innovations are packed into the Pro X2.
Tour-trusted Slope-Switch Technology engages Bushnell Golf's patented Slope Technology to give the golfer compensated distance based the hole's incline/decline - and turns off for a USGA-conforming device when needed.
There's PinSeeker with JOLT Technology to eliminate any doubt that you have locked onto the flag. All of it is wrapped in fully-waterproof metal housing to give the golfer the ultimate golf laser rangefinder.
Technology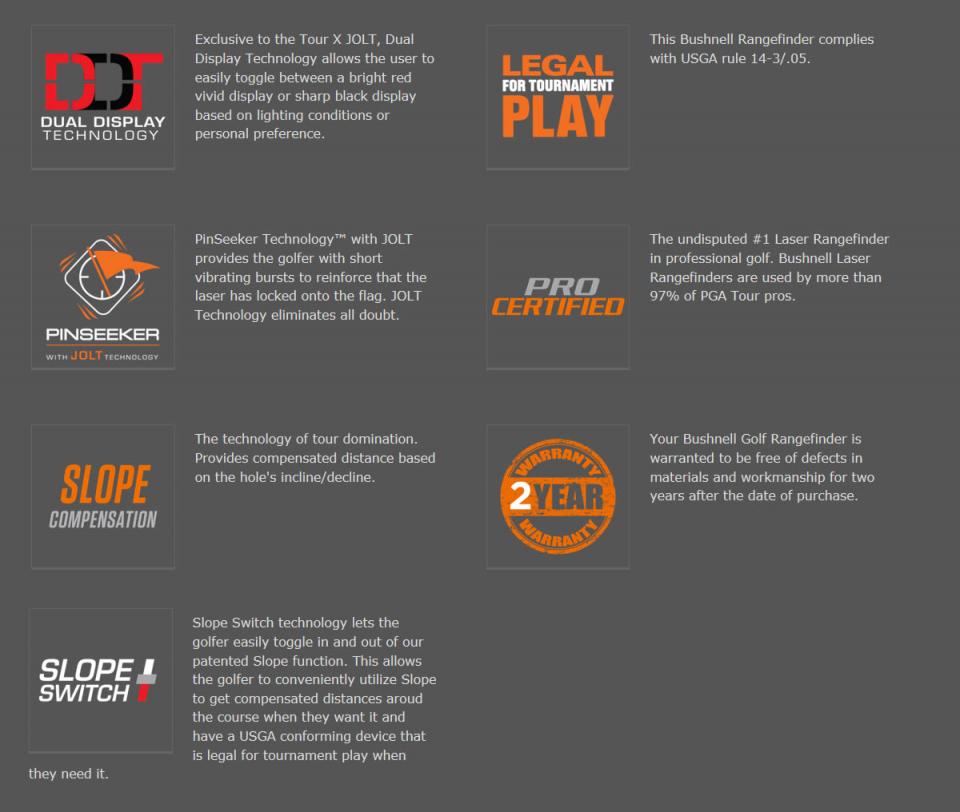 Features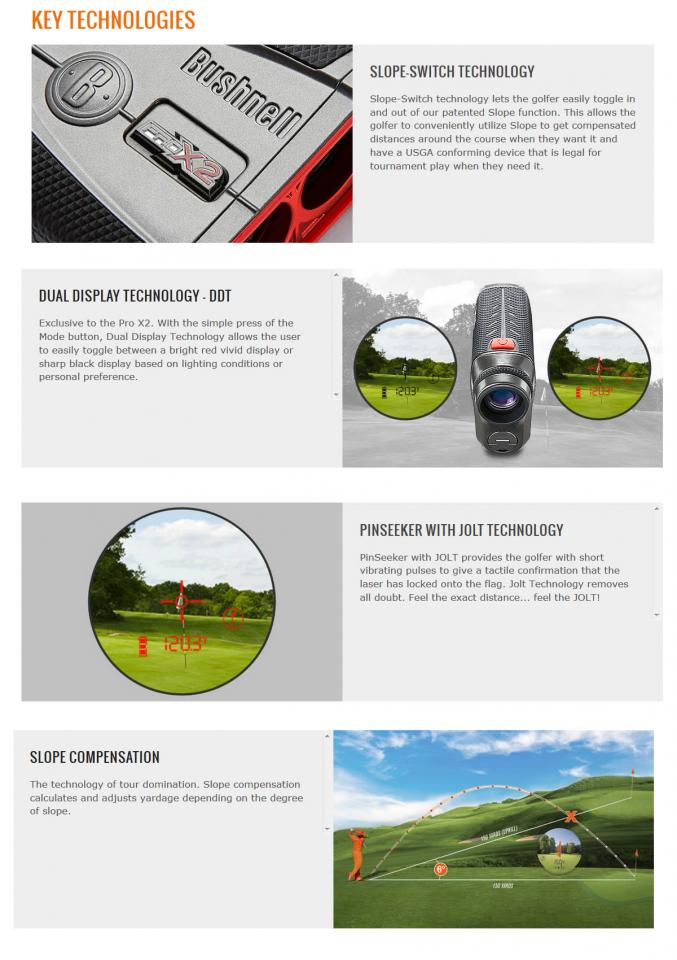 Specification