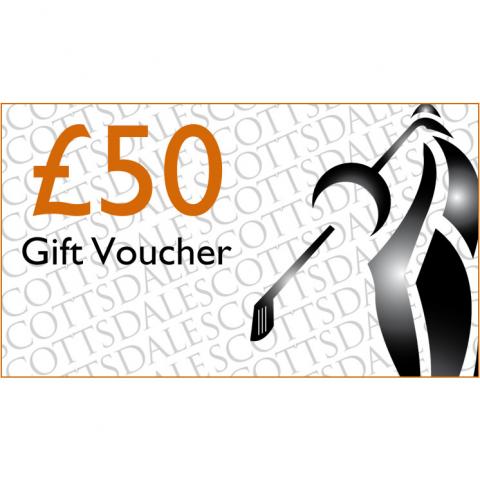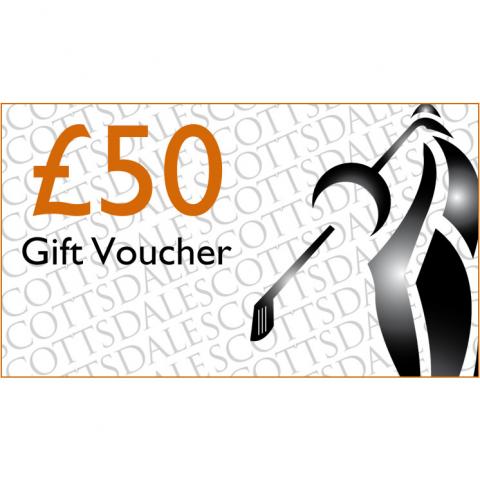 Scottsdale Golf £50.00 Gift Voucher
Receive by Email
Product code: GIFT50
£50.00
Earn 125 loyalty points worth £1.25
Product Highlights
The perfect gift for any golfer. Easily treat your friend or loved one Voucher codes are emailed to the buyer within 24 hours of ordering The email will contain an unique voucher code along... Read more
Delivery & Returns
Billing Terms
How can I pay for my order?
We offer our international online shoppers a seamless localised experience tailored to your preferences. Available payment methods will vary during the checkout process according to what is supported in your country.
Billing Terms
Loyalty Points
Earn 125 loyalty points worth £1.25
When you buy this product 125 Loyalty Points will be added to your account after the 30-day returns window has elapsed. Loyalty Points are accrued on every order and can be spent on any item at any time during the checkout.
Loyalty Points
Product Details
The perfect gift for any golfer. Easily treat your friend or loved one
Voucher codes are emailed to the buyer within 24 hours of ordering
The email will contain an unique voucher code along with instructions of use
Code can be redeemed onto online accounts quickly and easily
Valid for use on our website only or in our Manchester, UK store
Gift vouchers expire within 12 months from the date of purchase
If you already have a gift voucher and want to redeem it online - CLICK HERE
Content
Don't know what to buy for that golfer in your life? Let them decide for themselves with Scottsdale Golf Gift Vouchers. Simply select the value you would like and place your order, we will then email you within 24 hours with an unique voucher code which can be emailed or printed and given to the intended user.

How long do they take to be delivered?
Gift Vouchers are emailed within 24 hours of purchase. The email will be sent to the buyer of the voucher and will contain instructions of use.

How do they work?
Your email will contain a unique voucher code. CLICK HERE TO REDEEM A VOUCHER ON OUR WEBSITE. Please note that you have to be logged into an account to redeem a gift voucher and once redeemed the voucher will be available for this account only. If you do not have an account you can simply create one for free. You can also use the voucher in our Store but please be aware that without the unique code the voucher cannot be accepted.
Where can Gift Vouchers be redeemed?
Scottsdale Golf Gift Vouchers can be redeemed on our website or in our store.

How long do they last?
Gift Vouchers last for 12 months from the date of purchase.

Can I get change from a Gift Voucher?
No, sadly not. For example, if you have a £50.00 Gift Voucher and you spend £40.00 (either Online or in Store), you will have £10.00 left on your account which can be redeemed next time

Can I combine Gift Vouchers?
Yes, no problem. There is no limit to how many vouchers can be redeemed onto your account.